What's included:

Top & Bottom Frame [Anodized Aluminum]

1.5mm Plate [Anodized Aluminum]


1.6mm PCB

Weight [Brass E-clear Coated]

Underglow Diffuser [Polycarbonate]

Back Bar + USB Type-C Badge [Anodized Aluminum]


A random aaru series artisan keycap is gifted per every Divine TKL unit.
All firmware related resources are located at:
Documentations located at:
Colors available now :
silver-gold, black-gold, sand-gold, red-gold

and a valentines day edition pink-gold.
Regarding Plate choices:
For WK hotswap:
1.5mm aluminum, 1.5mm carbon-fibre plate and 4mm aluminum plate
For solder:
1.5mm aluminum and 1.5mm carbon-fibre
There's a version of carbon fibre solder plate with extensive flex cuts can be chose by selecting "
1.5 mm CF-Flex-WKL
"
Please note that all WKL pcb and plate are compatible with WK case,
but WK pcb and plate are NOT compatible with WKL case.
The WK Hotswap PCB:
It's based on qmk, supports customization through VIA
US87 layout (shown below within the black square outline)
Per-key rgb lighting and has two dedicated chips for lighting control
Polling rate: 1000hz at firmware 1.3
The solder pcb:
It's based on qmk, and supports customization through VIA.
It supports iso enter, split backspace, split shift. shown above.
It has underglow led stripe, and has socket for soldering single color lighting diodes.
Polling rate: 1000hz at firmware 1.1
The bluetooth HS pcb for WKL:

The bluetooth hotswap pcb is made in part for easier installation for WKL units. It runs on zmk firmware instead of qmk for a more stable wireless experience. However, the downside is its customizibility, as it can't be programmed through via but through zmk's github action.
The response time for wired mode is 1ms while up to 7.5ms for bluetooth.
Polling rate: 1000hz at firmware 1.0
The bluetooth pcb has hotswap sockets with WKL layout (7u space bar), it has aaru's underglow but does not have per key lighting.
Due to shipping limitations, batteries are not included.
For better battery compatibility across regions, the pcb uses HAC-006, a battery used in the JoyCon of Nintendo Switch. It should be available for purchase everywhere.
About Aaru:
Since Aaru's launch, it's full surface CNC hieroglyphic embossments have gathered attention and started a trended on Egyptian themed designs. Aaru, meaning the field of reeds, is a heaven like realm in ancient Egyptian culture. It is believed to be destined only by the pure souls.
The hieroglyphic embossments are taken from the bottom three rows of the Rosetta stone, a trilingual stele inscribed a same administrative passage from the Pharaoh Ptolemy V. then with three different languages: Hieroglyph, Demotic, and Greek.
The significance of the Rosetta stone is that it made possible for the world's scholars to decipher and translate this one of oldest languages. We found this significance fascinating and in tune with the kind of idea we'd like to convey through our design and products. That is, to promote understanding across cultures and civilizations; to show that with enough efforts invested, a person of any cultural background can understand and appreciate the values, traditions, views, beauties of another civilizations. Given the crisis in this era, we believe that this spirit of bridging understanding is needed even more.
Embossing Hieroglyphs on a keyboard brings an extra layer of meaningfulness as Hieroglyph influenced Phoenician alphabets, then in turn Greek alphabet, Etruscan, which then influenced and eventually superseded by Latin, then eventually English. So it may spark you a sense of history when using aaru as a tool for communication, or some philosophical thoughts on metaphysical form of language and communication.
0口0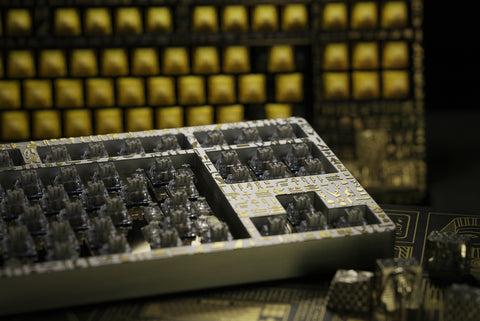 About Aaru Divine:
In essence, the glyphs are now glossy and standout of the background of the board and it reflects light at different angle as the video showed. 0口0
It's a new level of challenge in engineering and CNC crafting we set after we've achieved the mono color aaru. It takes us to first raise the height of the hieroglyphs in the first embossing CNC sequence, that takes about 7 hours per each top. Then it will undergo anodization process like the usual one except it needs to be done a bit differently as it will need another round of ano. After the first anodization is done, the part only then goes back to be mounted on the CNC machine and undergo another round of slightly faster embossing CNC sequence so that it will cut of its "raised height" part and its anodization with it,. And only then, the part will then be moved back to ano factory for a second round of ano that oxidize the freshly embossed glyphs.

I think it's suffice to say that it's easier said than done. With a cnc job with this kind of precision, it needs to be surgical, over the course of past year, we worked hand in hand with our factory to improve success rate, many different kinds of failure were encountered, most of them solved, needless to say its another pile of divine bodies now just like mono aaru before them. Some challenges like the micro resonance vibration we face due to environmental causes like "other machines working besides the one working on divine", or truck pulling right in front of the wall next to the machine, or just people jumping around, will cause the traces to misbehave, and if it cuts wrong in the second sequence, say it cuts outside of one of the glyph's parameter,  then the part will fail and the whole process will start over. Similarly, second round of anodization needs to be controlled very precisely, as soaking too long will result in damaging the first ano's color or oxidized coating, and soaking too short will not oxidize the second layer properly. Many efforts were put in, and continuously so to enhance the control overall process and the quality of end results. Unfortunately though, despite the efforts, we can't rule out all trace misbehaviors but only to contain them within glyphs,, otherwise the success rate will not be feasible at the moment, it shouldn't affect the appearance and aaru divine's reflective nature which is what makes it special.
Combining the above effort, the very long production time resulted in doubling cnc and ano procedure, with our (especially my) reluctance to sell things before it's produced (to avoid the anxieties like not fulfilling an advertised outcome etc). we just simply kept the divine production going for the good part of the past year and kept accumulating finished boards, not that many were accumulated :(  but better still. Thusly, we have some in our stock already to boost the buying experience.